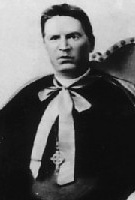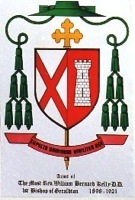 1898-1921
Bishop William Bernard Kelly was 44 years of age and already a priest for 15 years when he became Geraldton diocese's founding Bishop in 1898.'' Born at York, he became the first West Australian born priest in the Colony.
Nearly half of his 23 years as a Bishop were spent ministering from Cue in the Murchison Goldfields where most of his Catholic flock lived.
Back in Geraldton, his achievement of seeing to the construction of 20 churches and 15 schools was crowned by the commencement in 1916 of the spectacular cathedral, to a design by Father John Hawes, and beneath which he was buried following his death in 1921.
Aged 64 when he died, he showed the effects of the hard conditions under which he, his 11 priests, 84 Presentation and Dominican Sisters and 6000 Catholic had struggled to establish their Catholic diocesan presence.