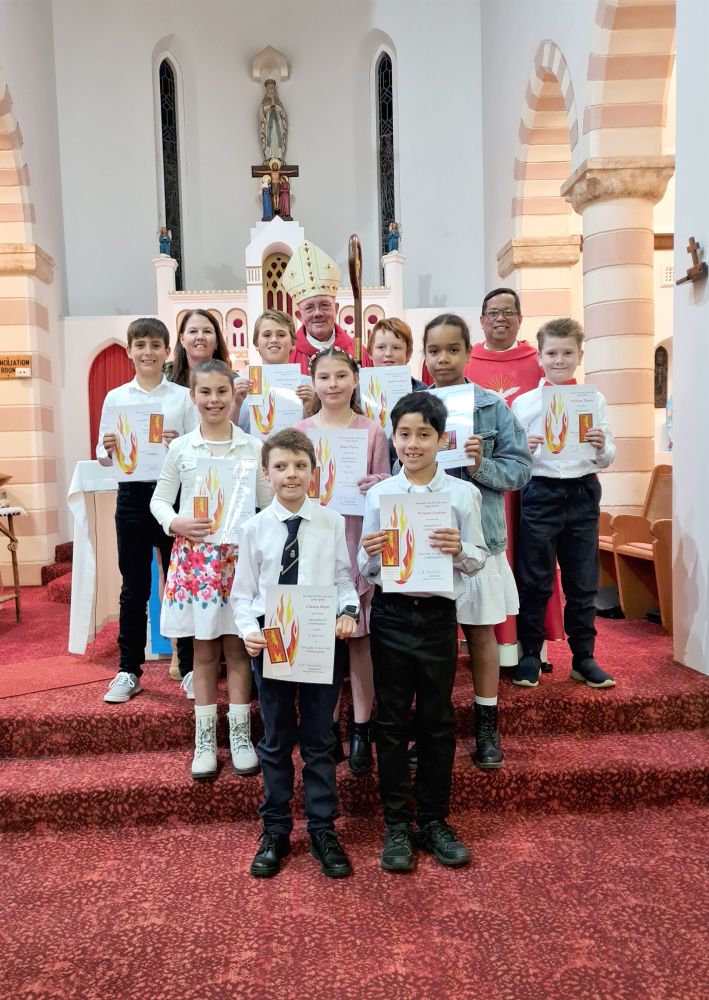 On Friday 26th of May Bishop Michael made a visitation to Northampton Parish accompanied by Parish Priest, Fr Larry Rodillas.
They both spent the morning at St Mary's Primary School visiting and chatting with the Year 6's Confirmation Candidates before enjoying morning tea with the Principal, Mr Brett Love and staff. Following morning tea they then wandered around the school visiting students and teachers in their classrooms.
The following Saturday evening Bishop celebrated the Sacrament of Confirmation in the Parish Church of Our Lady of Ara Coeli, recently re-opened after having been closed due to months of repairs, especially on the roof, from the damage received from Cyclone Seroja which tore through the district in April 2022. 

While in Northampton Bishop took the opportunity to inspect firsthand the progress of the cyclone repairs still underway at the Nagle Centre, formerly known as the Presentation Convent. The Centre has not been able to operate for over a year now and the loss of income from it is felt by the Parish. The Parish itself is still without a presbytery, after it was totally destroyed in the cyclone, while Fr Larry was inside. Truly a miracle he was not harmed, but it remains a traumatic memory for him. 

Sunday morning Bishop Michael celebrated the 8am Parish Mass before heading to Kalbarri to visit the Kalbarri Parishioners and celebrate Mass with them in the Visitors Centre. The Kalbarri church, Our Lady Help of Christians, has also not been opened since Cyclone Seroja. Because it is located more on the coast than Northampton, this church building took the full force of the cyclone and amazingly remained standing, though in bad shape. The repairs are now almost complete, but it has been a long, long process for everyone.